Welcome to The American diner Benimar, Alicante
HOME OF MAN V's FOOD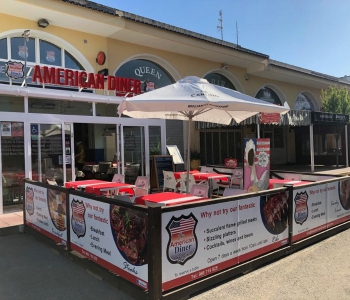 Typical food served in such places has been replicated RIGHT HERE in Benimar in our Luxury American Bar and Grill with a few twists of course.
We are famous for our mouth watering 100% pure steak burgers including our signature triple layered monster, our enormous racks of ribs served with choices of sauce including a wow Jack Daniels blend, our hot & spicy buffalo wings and of course our 28 day hung Sirloin and Rib Eye steaks.
Our menu is vast and is not for the faint hearted, come hungry, go home happy……….
Our Chef's use only the finest of ingredients and serve top quality, mouth watering dishes for everyone.Our 100 seater restaurant (including the outside terrace) caters for groups, parties, couples and of course children. We serve American Coors and drafted Carling and Budweiser beers, deluxe spirits and cocktails, juices, & milk shakes. The kitchen opens every day at 10am serving Buster and American breakfasts, lunch bites, and full menu until late in the evening. Come along and enjoy the amazing 50's and 60's ambience, décor and music from our authentic juke box.
We hope to see you soon
Have a nice day now!