ROUTE 66 AMERICAN DINER SL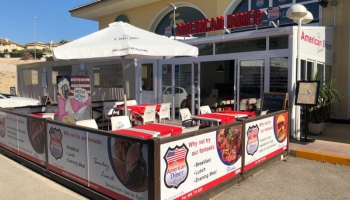 Our restaurant is situated in the very popular commercial centre of Benimar on the outskirts of the typical Spanish village of Benijofar and just 30 minutes South of Alicante, on the Costa Blanca, Spain
Our American Diner with themed interior, 50's and 60's music & ambience and amazing food is open 7 days a week from 10 am in the morning until late.
We serve freshly cooked British and American Breakfasts including our huge Buster plate costing only 6.95 euros, trust me you will not be disappointed……..why not try our American Pancakes, with maple syrup, strips of crispy bacon and scrambled eggs, omelettes and more uhm…. Start the day feeling great, it's all here…
Lunch time is for everyone, from that lite bite sandwich, to jacket potatoes, BLT's, nachos, hot dogs, salads and much more….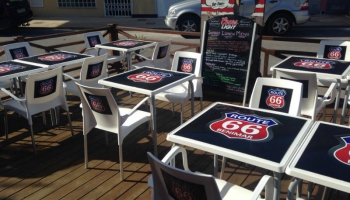 The full menu is available all day including our signature triple Decker Burger, melt in your mouth succulent 28 day hung sirloin and rib eye steaks & our huge rack of ribs with two distinct sauces one being our special Jack Daniels blend. We also serve a selection of Salads, Wraps, Hot dogs, Chicken Melts and of course our Chef's own amazing steaming bowl of Chilli. Check out the full Menu.
Our fantasic front of house staff and amazing team of chef's are here to welcome you 7 days a week.
Our walls are decorated with American memorabilia including pictures of Elvis, Marylyn Monroe, Johnny Cash, Betty Boop and more, 50's and 60's music played through our Juke Box, it's a great atmosphere from the very moment you arrive…..
We cater for parties in our upstairs function room, available to seat 40 people, ask about our special menu's, We have live entertainment on at various times of the year.
We celebrate many different days including Independence Day in July and are blessed with the American trilogy group Los Pisteleros and entertainment by Red Strokes.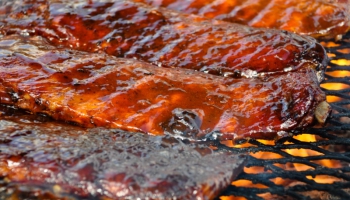 Our Sunday lunches have just got to be the best on the Costa (read the reviews!), everything is homemade and cooked to perfection, again what a great atmosphere every week….
If you're hungry and want to dine in a unique venue, then this has got to be the place for you……
Book on line now, or call the restaurant for your table. We look forward to seeing you very soon. And if you are one of our loyal regulars then we thank you for your continued custom and support……